Thousands of Territorians are expected to attend the fourth instalment of this unique all-ages event, held across three locations in the Palmerston City Centre: Goyder Square, the Palmerston Library and Recreation Centre.  
With more exhibitors and entertainers planned; attendees will be treated to a range of free activities including everything from Cosplay and Esports Competition, Virtual Reality, PC Play, Console and Tabletop Gaming, Anime, Medieval Land, demonstrations, Laser Tag, Artist Alley/Collectors Fair, Kids Zone and so much more.  
Food and drinks are available for purchase. 
Register for Esports and Cosplay competitions HERE
Register for the Escape Room HERE
Head to Palmerston Water Park for an afternoon of great beats and participate in the greatest race Palmerston has ever seen!  Hundreds of rubber ducks will race down the water slide, with one to be crowned the ultimate fastest duck in Palmy. 
To enter the Great Duck Race complete one of the challenges and earn a duck. The more challenges completed, the more ducks you can race.
Activities include, skateboarding, a water obstacle course, bucking bull, free BBQ and so much more!
Join us for Comedy Gold, a showcase of stand up comedy for the whole family.  
Join award-winning comedians Amy Hetherington and Richie Fejo for workshops to develop your stand up skills on July 5 and 6 and then share your best jokes at the Comedy Gold show on July 12. 
The Comedy Gold show on July 12 will feature up and coming Palmerston talent and acts from the Darwin Fringe Festival and is suitable for all ages. 
Workshops 1 
Date: 5 July 2021 
Time: 3 to 5 pm 
Location: Palmerston Recreation Centre 
Workshops 2
Date: 6 July 2021 
Time: 3 to 5 pm 
Location: The PYC Moulden
Rookie Cooks invites emerging cake artists aged 10 to 17 to participate in a cupcake decorating masterclass. 
Learn decorating techniques in a hands-on session to create beautiful cupcakes. We supply everything you need, so come and get inspired with Mel from On the Menu. There will be plain and gluten free options so everyone can join in.
Palmerston and Regional Basketball Association will collaborate with Basketball Northern Territory and Mad Events to stage the NT 3x3 Big Hustle NT Championships for Under 14, Under 16 and Under 18 Players, exclusively in Palmerston. 
Taking over the Palmerston Recreation Centre there will be 3 x 3 Big Hustle NT Championships, NBA2k Esports, skateboarding, music and so much more.
The event aims to attract teams from regional and remote areas, and it is anticipated teams will attend from Darwin, Palmerston, Alice Springs, Katherine, Tennant Creek, Groote Eylandt, and Gove, along with remote communities such as Gapuwiayk and Elliot.
Join On the Hunt @ Events for a massive day of activities and prizes. 
A themed Scavenger Hunt running from 12pm to 4pm, with groups of 4 to 6 people starting every 10 mins. Pre-register for the Scavenger Hunt, just select the time slot that your group would like to attend and register now.
Level Up Esports will create a gaming hub with console gaming on the big screen and VR.
Finish the day viewing the 'Short Film Comp' entries and latest released movie.
The Palmerston Youth Festival will wrap up with a free, all-ages music concert.

This year's incredible line-up features multi-award-winning Electric Fields as the headline, supported by dance music queen, Tigerlily and local stars, J-MILLA & Yung Milla.  

Surburban Sounds will be held at Goodline Park, Rosebery (home of the Raiders) from 5:00pm - 8:30pm.
Food and drinks will be available for purchase. 
Competitions
Palmy Short Film Comp
Calling all Film Makers and Tik Tok Reelers. This is your opportunity to get creative to produce a 2 min short film or Tik Tok clip. Films are to creatively include the theme 'Rise'. It can be as literal or abstract as you like! 
Shortlisted films will be screened on 15 July at On the Hunt @ Events Vmax Cinema.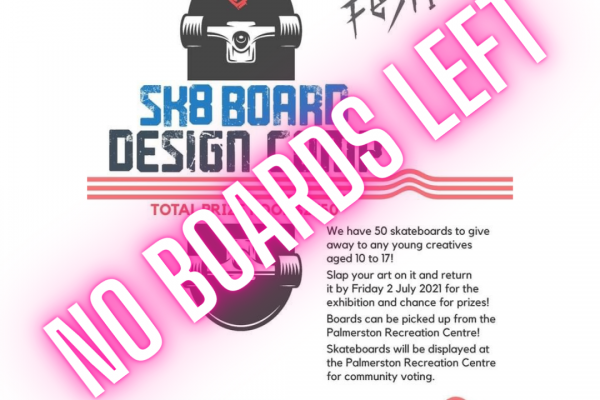 Sk8board Design Comp
# All Boards have now been taken, we look forward to seeing your art soon #
Please return all boards by 2 July 2021
We have 50 skateboards to give away to any young creatives aged 10 to 17! 
Slap your art on it and return it by 2 July 2021 for the exhibition and chance for prizes! Boards can be picked up from the Palmerston Recreation Centre.
Skateboards will be displayed at the Palmerston Recreation Centre for community voting.
Rookie Cooks Competition
Are you interested in starting a career in the cooking or baking industry? 

Learn how to prepare a feast of the senses and enjoy the fruits of your labour in an educational and fun Masterclass, where your food creation will be taste tested by professional chefs and bakers.

The top competitors will be short listed for a chance to win a scholarship with CDU.
Geekfest Competitions
City of Palmerston together with Australian Esports League (AEL) will host an exciting day of gaming and esports tournaments as part of Geekfest Top End 2021.
You can compete in Super Smash Bro's Ultimate, Rocket League or Mortal Kombat 11 competitions, enter the cosplay competitions or just play some friendlies with your mates in the free play zones!
FAQ
COVID-19

All City of Palmerston facilities require a QR code check-in system as per the Chief Health Officer directions as of 30 November 2020. It is a requirement that City of Palmerston collects all customer and visitor contact details. 

COVID-19 information
When attending events please observe physical distancing and hygiene requirements as advised by the Chief Medical Officer at all times. A minimum space of 1.5 metres between you and other people that you do not know. Avoid touching your face and cough and sneeze into a tissue or into your elbow. Hand washing with soap and water for 20 seconds or use hand sanitiser. Stay home if unwell.

Food and drinks

Attendees are welcome to bring food and non-alcoholic drinks to all events.

Weather

In July the days are sunny, and the nights are mild. The weather couldn't be better!

Services

Do you provide cloaking and storage?
Geekfest will accept Cosplay items but does not provide a cloaking or storage services for personal belongings. All other events will not have a cloaking or storage services for personal belongings

Will there be First Aid?
All events will have first aid officer available if needed. If you hurt yourself let one of the event staff know.

What about lost property?
Lost property can be handed in or collected from event staff.
Just identify your missing item to claim it if it has been handed in. Realise you've lost something after the event? All lost property will be taken to the Palmerston Recreation Centre and can be collected there, you can call 8935 9975

Prohibited items

The following items are prohibited at Palmerston Youth Festival: glass, sharp objects, aerosol cans, pets, alcohol and illegal substances. No professional photographic equipment, professional audio recorders or video cameras will be permitted. 

Zero tolerance 

We have a zero tolerance approach for any antisocial, aggressive, dangerous or intimidating behaviour, consumption and possession of alcohol, consumption and possession of any illicit substances. Any of these activities will result in immediate eviction from the event.

Accessibility 

Is there accessible parking?
Designated accessible parking will be available at all venues.

Are there accessible toilets?
Accessible toilets will be available at all venues.

Getting there

By Air
Darwin is serviced by most national carriers, with frequent flight routes and connections to most capital cities in Australia. Keep an eye on our Facebook for sale updates!

By Road
It's an epic road trip up north, with some incredible landscapes making for an unforgettable adventure with mates. Travel by car, campervan, or four-wheel drive across the red desert, stopping along the way to explore the NT's world-famous national parks, waterfalls and watering holes.
Keen to explore once you're here? 
https://northernterritory.com/drive

Accommodation
There are plenty of accommodation options resorts, hotels, motels, Airbnbs, backpacker accommodation as well as caravan parks and campgrounds.

There are two hotels based in the Palmerston CBD if you want to stay walking distance to the events.

Rydges
Quest (pet friendly)

Getting Around Palmerston
Palmerston CBD is just a 10-minute stroll from the bus depot. If walking's not your thing, a taxi, Uber or minibus will help get you around.